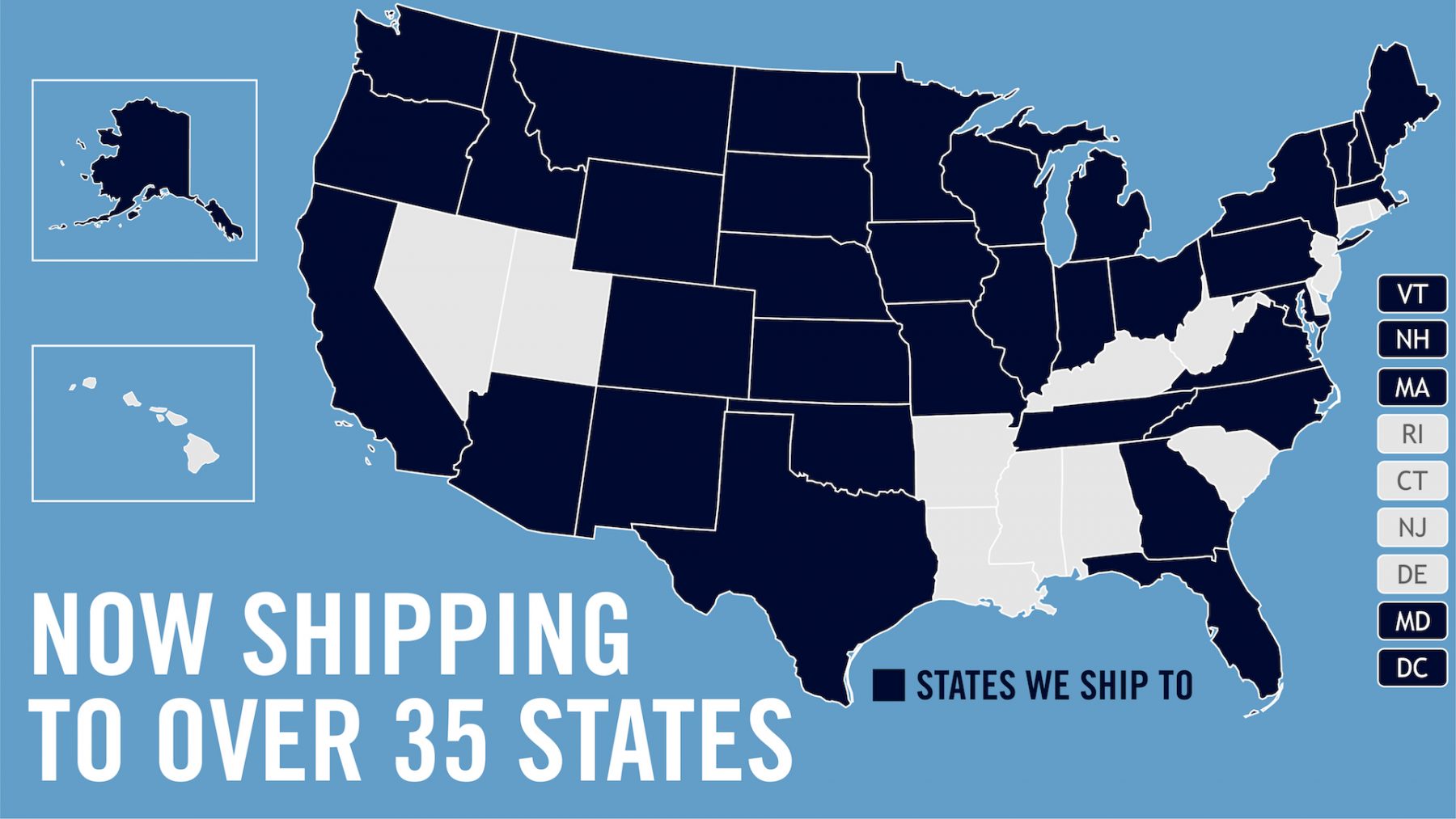 Can we ship wine to you? The short answer is, "It depends."
It depends on where you live, where you're shipping to, how much you're shipping, where you are when you ship it, and the weather.
You will receive a confirmation email when your order has shipped.
To be notified of changes in our shipping reach, wine releases and updates, please join our mailing list.
All orders will be shipped via UPS, unless otherwise requested.

If you're shipping wine

, someone over the age of 21 must be available at delivery to sign for it. We recommend shipping to a business address when possible. UPS will not leave the package unless an adult with a valid ID signs for it. If multiple attempts to deliver fail, the wine will be returned to the winery and can be shipped again at your expense.

We can ship non-wine products (t-shirts, Prairie Berry Made, glassware, etc.) to all 50 states in the United States

Every state has different regulations

regarding the shipment of wine.

Find your state in the map above

where you plan to receive your wine to find out if we can ship to you. If we can't ship to your state, consider having it shipped to someone who lives in a state we can ship to. But make sure you can trust them to not drink your wine.

Pick-up orders:

Please note that online or phone orders for pick-up at Prairie Berry Winery may still require 24-48 hours for processing. Please call 877.226.9453 to speak to our staff from 9 a.m. – 4 p.m. MT daily, with questions or concerns. If you are in a time crunch, we will do our best to help!
Expedited Shipping
Extreme weather (sustained temperatures exceeding 90°F or falling below 16°F) can damage your wine. To guarantee the condition of your wine when shipping to areas with sustained heat or cold, choose our Expedited Shipping Service.  
Our Expedited Shipping Includes: 
Complimentary cold packaging with an insulated box and ice packs

Ships 2-day Air with UPS to ensure your shipment arrives within the window our cold packaging protects

This service guarantees your shipment against heat damage through the first delivery attempt.
It does not guarantee against multiple delivery attempts, so please ensure you are able to accept your package on the first attempt. If this is a concern, we advise that you ship your package to a business address, or select a local UPS location that will accept your package on your behalf.  We would also encourage you to utilize UPS MyChoice to manage your delivery.
Cold Packaging
In hot summer temperatures, we highly recommend choosing to add cold packaging to your shipping order.  We wrap the interior of your box in insulation, and add frozen ice packs around your wine to protect it in transit.  These frozen packs will absorb heat and keep your wine at an acceptable temperature for approximately 48 hours.  Upon arrival, they will most likely be melted completely.  That's good—it means they did their job.  
Cold packaging is included with our Expedited Shipping. You may also choose to add our Cold Pack packaging to any order to help protect your shipment for $12. 
Note: Free Shipping on a Case applies to UPS Ground shipping only and does not include Expedited Shipping or optional Cold Packaging. We are unable to guarantee standard Ground shipments through extreme temperatures against heat damage.