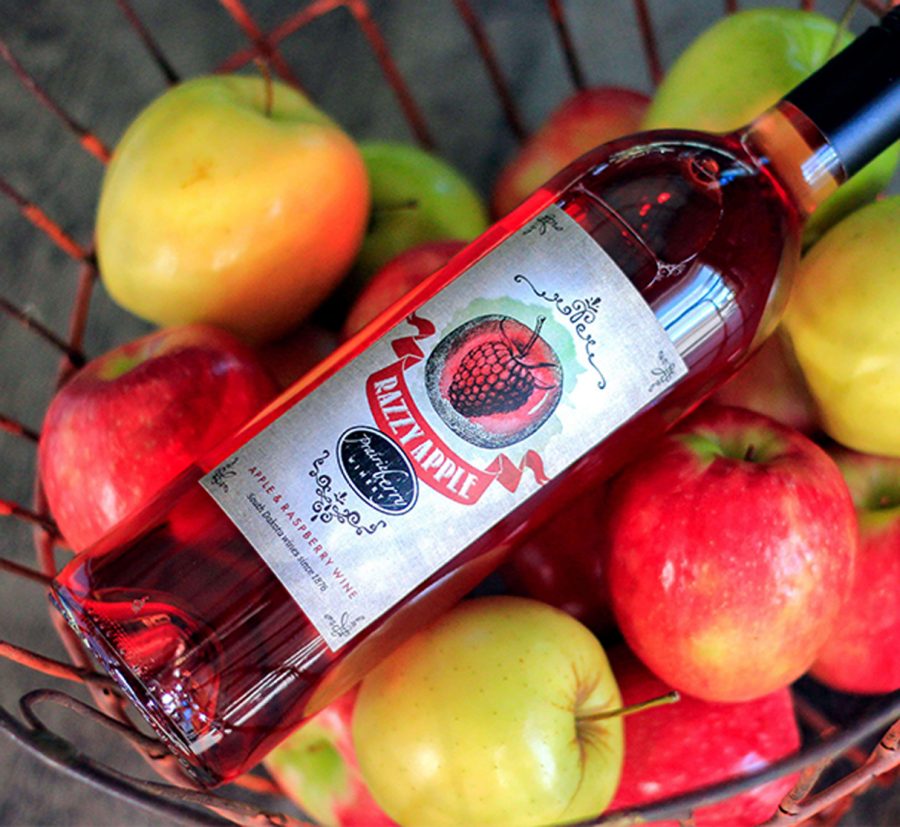 Razzy Apple
Razzy Apple is our first commercially produced wine.
It offers notes of ripe, macerated raspberries with undertones of dried strawberry and tangerine.
$17.00
Gen5 Membership Price: $13.60
"AK", "AZ", "CA", "CO", "DC", "FL", "GA", "ID", "IL", "IN", "IA", "KS", "ME", "MD", "MA", "MI", "MN", "MO", "MT", "NE", "NH", "NM", "NY", "NC", "ND", "OH", "OK", "OR", "PA", "SD", "TN", "TX", "VT", "VA", "WA", "WI", "WY"
Composition
Red and Black Raspberries and Apples
Sweetness
Sweet
Story
We made this rosy raspberry-apple wine for several years, starting in Ralph's basement in Mobridge, with raspberries I picked from a backyard in Rapid City.
That was our first 65 gallons—325 bottles of wine.
When we moved to Highway 79 in Rapid City we increased the quantity to 265 gallons, and now we make 2,600 gallons at a time.
We kept the first case of Razzy Apple we bottled for sentimental sake. We used it to christen the winery near Hill City, and again when we expanded production and added new tanks.
I guess you could say that Razzy Apple has been with us through it all. We're delighted to be able to share it with you again.
–Sandi Vojta, fifth-generation winemaker
Awards
Gold Medal, Indy International Wine Competition
Pairing Suggestions
Cheese Pairing
Goat cheese, Brie, Muenster
Food Suggestions
From Our Kitchen: Smashed Potato & Bacon Pizza
At Home: Spinach-Strawberry Salad with Grilled Chicken, Grilled Ham and Apple Panini with Muenster or Provolone Cheese
Recipes